The great thing about sewing is that you can do it after dark – when it's too late for gardening. #Sew10 has been a great project so far – each day I've worked on a sewing task of some kind, and I've been creative about fitting it into a busy week. Yesterday morning, I made a pouch for my iPad out of some scraps of felt and lairy orange elastic.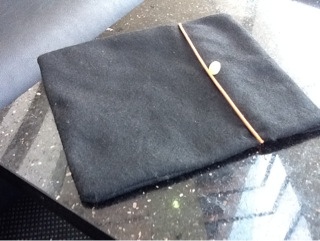 Not bad for 15 minutes work.
The previous few nights I cut out a trouser pattern and started making a 'dummy' pair to check for fit. The test fabric was all wrong (no drape or stretch) but through comparison with my favorite purchased pair of black pants I made some adjustments to the pattern and now have something that should work.
Last night I started work on the first real pair – simple black ones for work. I had to stop working at 10.30pm as I had an early breakfast meeting today. I hope to finish them off by the end of the weekend, and start on something new.