Something to please the toddlers – depending on where you are in the garden you can play in the stream, the puddles or the mud slide.
Gee, it's rained a lot! It is now officially dangerous to feed the rabbits. I have resorted to putting some carpet underlay over what was left of the lawn near their cage so I didn't end up looking like a mud wrestling contestant. On the carpet underlay I still get puddles forming if I stand still too long. The stepping stones we put on the compacted soil near the chicken shed door are sliding downhill – I had to move one back up hill so that the door could open.
Yes I'm a little tired of the mud – largely because I would have liked to spend the weekend outside digging holes.
Ah well, ;
We had a rip snorter of a gardening year after the last time the backyard got such a drenching so there is some silver lining to look forward to.
Positives to be seen or eaten:
Carrots by the dozen, I planted lots, and the most successful have been those in C3 where I used Steve Solomon's sludge recipe for the seed sowing. I don't think he called it 'sludge' in the book, but basically you cook up a sludge using cornflour and water and when it is cool mix in your carrot seeds. I used an old squeezy maple syrup bottle to draw lines on the garden bed. And the seeds came up! Having killed so many packets of carrot seed in the past I have to pinch myself with the success I have had this year. I know I've said it before. Yeah, things like a little care and attention, none more so than carrot seed.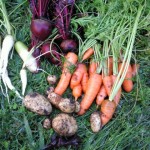 Last night I picked the massive purple cauliflower head that grew in defiance of the failure of it's compatriots in the same bed. Never thought Robin would like the flavour of raw cauliflower stem but that is the magic of fresh picked vegies picked after generous rain.
Also a success is the salad box on the deck. This insulated box is providing salads – lovely tender lettuce, and a smattering of punchy wild rocket. Yum.
Gardening at this time of year is so much more about harvest except for the infrastructure projects or tree planting. And tying things down so they don't blow away.