We have bought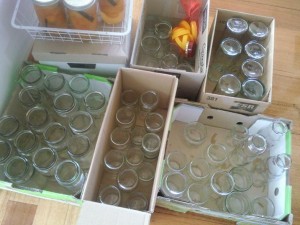 about 250 fowlers jars in the last week, we are joking we'll be OK if some disaster happens, will just have to eat lots of fruit.

Plans include:
concentrated tomato puree
more nectarines?
apples (in a month or so)
pears
quinces
salsa
chutney and relish – lots!
The idea of being able to do lower acidity veg and dishes containing meat such as home made baked beans, pea and ham soup, minestrone, curry sauces, vegie curries etc is intriguing me. I have costed a pressure cooker and it comes in around $180 from Amazon when you add in delivery and a few accessories.
Garden report from weekend Sat 26/Sunday 27 Feb
Planted out broccoli (green and purple), caulis, cabbages into c1 and c5.
Cleared out parsnips and coriander and scattered their seed far and wide.
Weeded C3 and C2 in amongst the carrots. Beetroot growing better in C3 where i gave them more space.
Started weeding Centre.
Combined compost from two black bins which were about 2 weeks old and needed a remix and rewet.
Preserved over the weekend
3 mayo jars pickled cucumbers (home grown)*
2 mayo jars dilly beans (i mixed up too much vinegar and had a recipe for beans too)*
3 No 31 jars pears in lemon syrup (home grown)*
5 No 27 white nectarines in water (from fences at Petty St)
dried plums – best ones so far are from Petty St fence
dried apricots from garden.
2x500ml, 2X250ml red pepper ketchup*
4x375ml, 1x250ml tomato and red pepper chutney (recipe)
Currently I have about 1.5kgs black cherries in the dehydrator. Yum. Fruit from  FarmGate Market.
All marked with * from "Put 'em Up" by Sherri Brooks Vinton. I love the way this book is organised – by produce eg all the things to do with pears are together. Having grown up with some of Mum's fave cookbooks organised in this way it makes sense to me.
The State Library has been a treasure trove of preserving books, currently on loan I have:
Put 'em up! : a comprehensive home preserving guide for the creative cook : from drying and freezing to canning and pickling, Sherri Brooks Vinton
Knack canning, pickling & preserving : tools, techniques & recipes to enjoy fresh food all year round
Out of the bottle : easy and delicious recipes for making and using your own preserves, Sally Wise
Preserving the Italian way : a collection of old-style casalinga Italian recipes, Pietro Demaio
A year in a bottle : how to make your own delicious preserves all year round, Sally Wise
I've ordered a copy of the first one, and will borrow the Knack and Sally Wise books again from the library. Lots of the books have a lot of jam recipes – If you cut out bread, then there's no toast to put it on, so we only need small amounts of jam and jellies.
I'm on the waitlist for  a bunch more books. Will report back when I've had time to read and test a few recipes.
Review of fruit so far this year.
The pears have been superb, about 1.5 to 2 kgs coming off the tree per day. I'm really pleased with how we've been keeping up with windfalls.
Apples are looking promising. There is a bit of codlin moth on the pome fruits which I will start tackling this weekend with cardboard collars. The tree closest the garage is having large fruit and lots of vertical growth up high so that needs a summer prune sooner rather than later. The gala needs a clear out underneath – some suckers coming up under it, and this will make it easier to pick up windfalls and for the chickens to get under it as well and scratch for bugs.
Apricots and peaches suffered from the weather – wet and humid led to lots of brown rot. I think we need to thin out the top Moorpark tree branches and also thin out the fruit at about 2/3 fullsize when still green. This will give more air movement around the fruit. It would have been better to have a harvest of 50% quantity and actually get more than about 5 kilos that was useable.
Strawberries are having a second flush of fruit, with some in the front garden – they have responded well to having more water from all the rain.
Tomatoes!
Lots of fruit on the bushes. My cage supports have worked well, needed proper garden stakes to hold the cages vertical once the fruit started to get heavy. they are now restaked.
Best so far:
Large quantity fruit – Victoria planted against side fence. Beefsteak style, lovely and sweet rich flavour.
Stupice was earliest – only about 10 days behind Meyles using the greenhouse, also earliest of outside plantings, but less fruit per plant.
Planning to make some yellow tomato preserves to make the most of the colour.
Runaway Chicken
on Friday morning I realised Smoky the japanese bantam was missing from the portable pen, with their scratching there was a dip on one side she must have snuck out – following the sparrows I guess. Sad to think she's done a runner, but at least there was not a deflated puff of feathers laying around to be found. I must, I must trim Snowy's wings (her sister) so that she can't fly.
The rose bush shades this more than I would have thought. Cucumber has done well, more on the way. Rockmelon has two fruit. Pumpkins are growing but not setting fruit and I think the zucchini has done its dash. In winter time we plan to plant some fruit trees here anyhow, so not a major issue. Does reinforce the need for SUN! which we have been rather light on this summer.