Category Archives:
chickens
Finally the holes are dug!
Our original plans were measured to fit within the space between the strawberry and blueberry bed and the Pink Lady Apple tree near the straw shed. After a Permaculture workshop I wondered if we could include the apple tree inside the shed. This was Plan B. And it seemed to make sense until we marked it out on the ground and came to the conclusions that:
a) it was freaking big
b) where would we put the compost bins (currently 3!)
c) it was BIG!
So we scrubbed out the marked holes and trenches at the bottom and went back to Plan A. A sensible sized chicken shed. One cube 2.4m square completely enclosed in Laserlite, with an attached netting run the same size.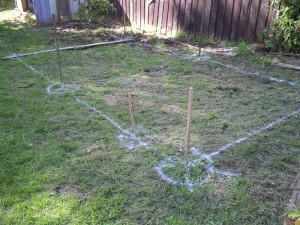 Holes for poles marked on the grass. Dimensions 2.4m x 4.8 m in total. Current shed is 2.4m x 3.8m but A frame which cuts down the usable space and makes it a pain to clean out and catch chickens in.
You can see on the left the Pink Lady Apple that nearly became a caged beast. It was simply too close to the back wall of the shed.
Dirt seems to expand when it is dug up. Interestingly the dirt here is good to quite a depth. Well, good for sticky black West Hobart clay. When we went this deep in the front yard for French Drains Robin very quickly found a charming yellow sticky clay which we still find pockets of over a decade later despite lots of mulch and gypsum.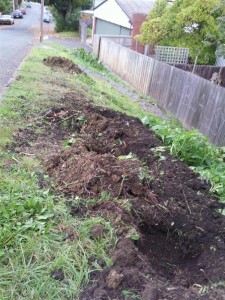 While Tim had the digger here we also had four holes dug on the back nature strip for some quince, pear and almond trees. They are now filled with either compost that was nearly ready or litter straight from the chicken shed. Today we will add a scoop of worms to 1 of each, bit of an experiment with rotting down material before planting time in winter.
What's next with the chicken shed?
Figure out how to build something with right angles on a slope. Ross (Robin's father) is coming over for morning coffee to lend his expertise.
Mix concrete for the 9 post stirrups
Get the poles up and basic roof elements
The pile of concrete mix adorning the driveway is looking ominously large… Will report back.